News
Laura, a member of our Residence Community just recently visited Kenya on a mission trip with Trenches Community Church.  Her journey took her to a place called Naomi's village which is home to 80 orphans.  At Naomi's Village, orphaned children are provided with love, healthcare, nutrition, education, spiritual care and individual counseling through sponsorship and volunteers.  Some of these children are left parent-less by terrorist attacks, AIDS, disasters and domestic violence.
Laura spent 2 and a half weeks volunteering her time at Naomi's Village where she learned how to not take the things she has for granted.  She pointed out the the children, despite their trials and tribulations as such a young age, found joy and happiness in the littlest of things in life.
After Laura's visit, she has been inspired to pursue and internship with the village and has even sponsored a little girl named Lucy.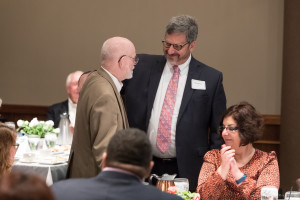 Ron Bush, one of Open Doors' founders, was recognized at this year's Discover Open Doors, for 47 years of commitment, support, and service to people in need.  Ron has mixed feelings about the honor: "I don't think there's anything particularly honorable about doing what's right.  I'm grateful for what's happened and for what Open Doors has been and the lives that have been touched by it – mine included.  I feel like I was just responding to what God put in my heart.  Just doing what seemed to be the right thing to do, trying to connect with a portion of God's people that weren't being connected very well."
In 1970, Kalamazoo Youth Ministry was organized by a bible study group which included Ron.  The group established a coffee house in the Vine neighborhood of Kalamazoo where young people were offered sanctuary and a genuine spirit of concern and care.  The house grew into a place for worship, singing, help in crisis, free medical and professional counseling services, and other services that were needed.
"Our desire was to create a ministry and outreach into the community with God's love and grace and care for folks.  Our task was not to proselytize or to be an agent of the church, but to be a presence of God in the community."
KYM evolved into the Open Door for homeless young men and the Next Door for homeless young women.  Ron became acting Executive Director in 1997 after he retired from a career at Fabri-Kal.  He retired as Executive Director in 1999 but stayed on as manager of the Open Doors, helping homeless young men get employment and rebuild their lives.
Ron served as mentor to Rick Stravers, Open Doors' next Executive Director, who helped Open Doors develop affordable rental housing for low-wage working people.  "This is one of the things that Rick brought to it, one of the gifts that he's had," Ron says.  "There's such a sense of God's providence as all that unfolded."
We asked Ron how he felt about the transitions that have taken place over the years. "The desire to be connected hasn't changed.  The idea of safety and the ability to be who you are have always been part of what this ministry has been about.  And it's still very much part of it.  So for me it's been a real joy to see that happen."
Ron has been a pillar for Open Doors, a dedicated and humble man responding to what has been put in his heart.  "I'm grateful that I had the opportunity to do that.  I'm grateful that God gave me some capacity to do that.  I see that as honorable but I don't see that that honor belongs to me.  That honor is because that's the way God organized it or planned it.  And the fact that I was picked as an instrument in that fills me with gratitude.  I want people to recognize that's how you find some joy and fulfillment in life, when you can feel like you were part of what God's doing, what God wants done."
"I'm grateful for the lives that have been touched by Open Doors – including mine."