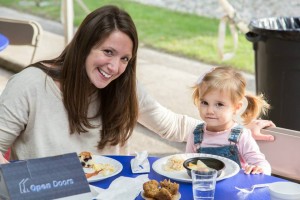 Bountiful BBQ, our fall fundraiser and open house (formerly Bountiful Breakfast), is a great way to learn more about Open Doors and see what we do first-hand. After a wonderful lunch from Weller Barbecue you can enjoy tours of some of our Southern Avenue apartments.  Children can play on our playground and meet two goats from Lake Village Homestead.  Cost to attend is $25, children 10 and under are free.
Interested in attending Bountiful BBQ? Contact Open Doors at 269.343.6064 x304 or at svest@odkzoo.com or fill out the following form.
Thank you to our past sponsors
Weller Barbecue
Honor Credit Union
Carr Craft, Inc.
Gergely Law Offices, P.C.
Ron Jackson Insurance Agency, Inc.
Ralph Moyle, Inc.
Metro Toyota/Scion
Mercantile Bank