TOGETHER WE ARE STRONGER
Change Gonna Come, the Music of Sam Cooke & Discover Open Doors
Sunday, August 29 at 4 pm
The Kalamazoo Bach Festival and Open Doors of Kalamazoo have teamed up to present the community with a powerful experience of artistic expression and an opportunity to support and better understand our local housing crisis. 
There is no better place than Bronson Park for our community to experience an inspiring performance about the life and music of Sam Cooke and support initiatives to overcome our community's housing crisis by discovering Open Doors Kalamazoo. For over 50 years, Open Doors has been effectively and efficiently providing affordable homes and  personal support to create long-term solutions for people in our community who need a safe place to call "home." 
Change Gonna Come is a biographical musical theatre production portraying the life and songs of soul singer Sam Cooke whose influential career was tragically shortened when he was shot at just 33 years of age. Most well-known for the title song A Change is Gonna Come, as well as You Send Me, Cupid, and many more, he was a force for social change, appealing to white and black audiences alike while disrupting a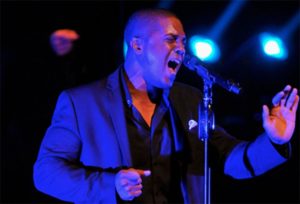 record industry known for inequities and racism relative to black musicians. The performance moves between being staged in Cooke's living room, his father's church, and a pub as he recounts various stories from his life, interspersed with featured artist Jerome Collins, singing many of his hit songs. Baritone Jerome Collins, founding member of the a capella ensemble Straight No Chaser, portraying the life and songs of soul singer Sam Cooke paired with Kalamazoo's favorite local jazz instrumentalists led by Benje Daneman co-director of the Jazz and Creative Institute and pianist Rufus Ferguson, and an eclectic ensemble of talented singers led by Chris Ludwa, are sure to deliver a profound and beautiful work, Change Gonna Come, written in partnership by Bach Festival's Music Director Chris Ludwa, and visiting artist Jerome Collins.
This event is free to the public and all are welcome. Open Doors of Kalamazoo will use this collaborative opportunity to raise awareness and funds to support its housing initiatives here in Kalamazoo. Key speakers will include Stephanie Hoffman, Executive Director of Open Doors, and residents of Open Doors who will share their life journey to stable housing in Kalamazoo with you.
Change Gonna Come has been partially underwritten by the Arts Fund Grant of Kalamazoo County, partners Bill and Jeannette Maxey, and our Discover Open Doors Sponsors.
Contact Stacy Vest, Development Director if you are interested in becoming a SPONSOR or GROUP HOST for Discover Open Doors 2021.
Sponsorship and Group Hosts
Major and Supporting Sponsors