Please join us in a round of applause for Ron Jackson Insurance, recipients of the 2021 Outstanding Donor Award!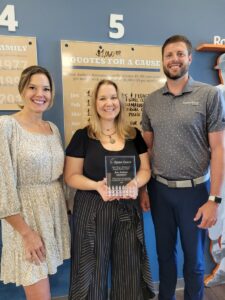 Ron Jackson Insurance and their employees have been supporting our work in various ways for at least 10 years. Their support comes in many forms – event sponsorship and participation, serving on our board of directors, serving on our fund development committee, and providing holiday meal baskets so that our residents can enjoy the holidays with their families knowing that they are appreciated and cared for by our community.
Below are some photos of the meal baskets donated by Ron Jackson Insurance last Christmas. There are so many baskets that you can't see our office floor! These are not your typical "non-perishable" food donations. They are a hearty meal, complete with a whole ham, a gallon of milk, a carton of eggs, potatoes, vegetables, and dessert, along with a grocery store gift card. It brings us, the ODK staff, so much joy to deliver these baskets to our residents days before Christmas and see the holiday spirit come to life on their faces. Our gratitude for Ron Jackson Insurance, their staff, and the Jackson family last throughout the year!
Thank you, thank you, thank you to our friends at Ron Jackson Insurance for your longstanding support of our residents and shelter guests!