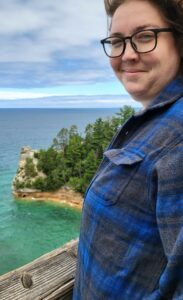 Congratulations to Jillian Hocking for receiving the June 2022 Staff Award, recognizing Open Doors staff members for their extraordinary work and innovative ideas!
Jillian was nominated for her innovative ideas, supporting her colleagues, finding creative cost-cutting measures, and embodying the spirit of Open Doors.
"[Jillian] spends time listening to residents about a multitude of topics when she is called for maintenance support. She embodies the true meaning of building relationships to overcome homelessness. When an issue arises where immediate facilities maintenance support is necessary, she responds quickly to implement whatever is required."
Thank you, Jillian, for your passion and commitment to our mission, and for being an outstanding member of Team ODK!